How it all began...
For the past couple of years, we have been sourcing and selling gorgeous, quality vintage knitwear through our sister brand, The Preloved Edit. During that time, we always knew that we eventually wanted to create a small, non-waste collection of our own hand knits, but it had to be done in the right way to suit our team and fit our customers' needs.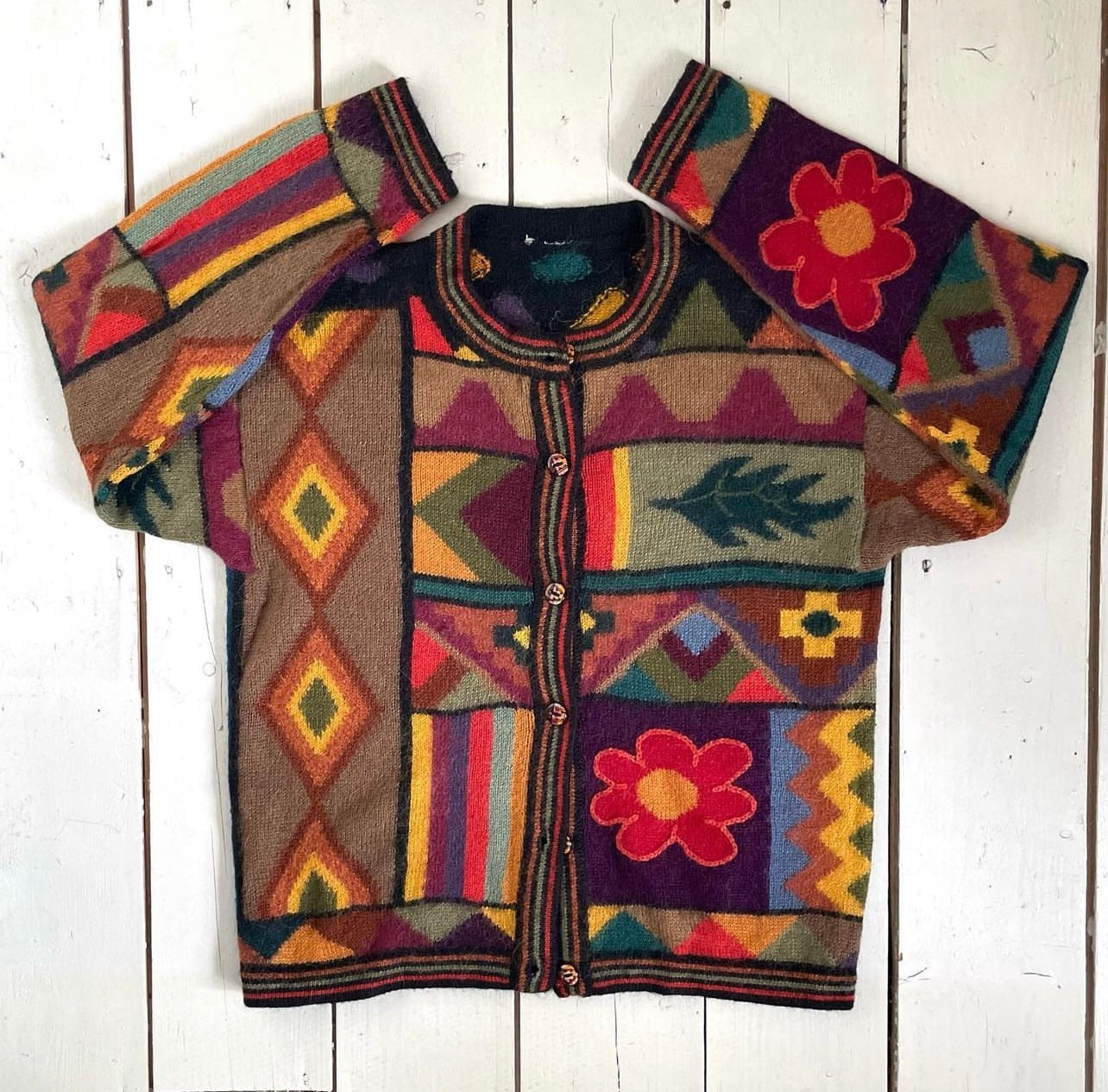 Our time at PLE has taught us a huge amount about really good quality knitting, and also about what people want in a top drawer oversized jumper or cardi. 

With certain vintage slouchy jumpers selling so well, we used those particular pieces as inspiration for our block model. 
The shape and style of the oversized jumper has been adjusted several times to find just the right fit. 
We understand you may wonder why just one size - and the simple answer is that we are starting small and want to get it right, without any of the depressing waste that has given the fashion industry such a bad reputation.
That means slow, steady investment and small orders to start with. Naturally, the dream is to regularly commission more slouchy jumpers, and eventually be able to offer a size range.
Made To Last

Our jumpers are either completely knitted by hand or by machine as we have wanted to use the 'birds eye jacquard technique' which works best by machine. All of this takes time, care and passion. If you look after your knitted oversized jumper, it will last for decades. Much like anything made from hand, each piece is unique. We strongly recommend that you do not regularly wash these items. Hand wash only, and dry flat (we dry them on heated airers.)

Reducing Waste

To reduce waste, we only commission very small numbers at a time. This means we pay more per item, but we avoid the  huge overstocks that many retailers rely upon to get an economy of scale. We are happy with this. We also have a section on Preloved Edit to sell samples and seconds. Seconds are items that have been hand knitted by our knitters but which - for a variety of reasons - didn't meet the very high standards that we require. Rather than reject them as waste, we work with the knitters to fix any problems going forward.

Packaging

We aim to ship all orders in packaging that is either recyclable or biodegradable. Our plastic bags are biodegradable, and the shipping boxes are also designed for reuse (they have an extra adhesive strip). 
Who actually knits the jumpers??
With the help and guidance provided by our UK designer, we began searching for the right knitters and team to grow our own brand, Slow Love.
After connecting with factories in Nepal and the UK, we still could not quite find our 'fit'.
 Our designer has worked with a small studio in Hong Kong for years and visited mills with them. She and the Hong Kong studio have a history of trust and understanding, so we decided to create our first little collection with their help.
Over the year, we have built a great relationship with them and the staff. They work with small, independent studios that value the welfare of their employees.
The women who hand knit the jumpers are artists, and command a high wage (far exceeding the living wage) as hand knitting is a niche skill, they are very in demand and dictate their hours (most work from home, especially since COVID).
Lots of the knitters are mothers and grandmothers - unfortunately, this is a dying art as the new generations have no interest in learning how to hand knit. We estimate we have about x5 years left before hand knitters retire.
They understand our vision, and we are supportive of each other's businesses. We aim (as the brand grows) to visit the knitters (hopefully later this year) to develop a true community of work.